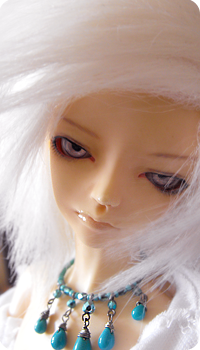 Name: Indar'e Lan'feh
Nickname(s):
Age: 17
DOB: March 29th
Arrival Date:
Company Mold: DollZone Megi [head only]
Location: Cuevar
Skin Tone: Normal
Hair Colour: White/platinum
Eye Colour: Lavendar grey (blueberry)
Customization: N/A
Status: Single, not looking
Occupation: Princess and Guardian
Likes:
Dislikes:
Personality:
Other: Indar'e is a princess of the Kingdom Sothulle of the House of Lan'feh on the planet Aislindalie. She has a twin brother named Kah'zril and an older brother named Beylin. She also has a younger sibling named Corshier. Her family are guardians of a secret and live through centuries without dying, however they are mortal and can be killed.